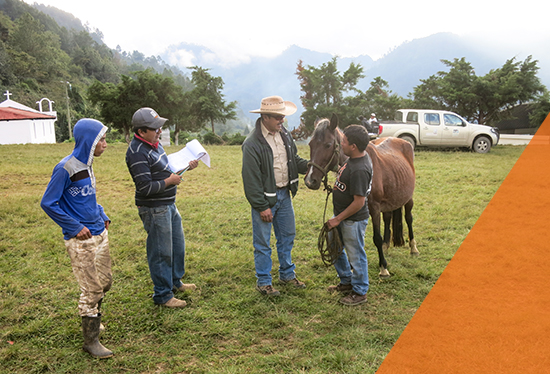 Brooke's animal welfare indicators are used worldwide to assess working equids
We are now sharing these resources to enable others to learn from our experience and utilise the indicators to measure and improve equine welfare around the world.

There is no cost to register and gain access to the material on this site – just log in and start downloading:
What are animal welfare indicators?
Animal welfare indicators are scientific measurements of aspects that contribute to an animal's overall welfare state.  They may be 'animal-based' and measured directly from the animal e.g. nasal discharge, or 'resource-based' and measured from inputs provided to animals or from their surrounding environment e.g. air quality.  The materials on this site are focussed on animal-based indicators as these provide the most reliable reflection of the animal's actual welfare state.
Welfare assessment is the process of appraising the welfare state of individual animals or groups of animals.  The materials on this site have been developed for use at the individual animal level.  At Brooke, animals are assessed individually then data are collated and analysed at a group level in order to identify welfare issues in different populations of working equids.
Using animal welfare indicators in this way helps us to understand the animals' needs, informs priorities for welfare improvement activities, and allows us to monitor effectiveness and evaluate the impact of our work.
"Use of animal welfare indicators helps us to generate strong evidence-based 'advocacy asks' to improve the welfare gaps."
We hope that sharing Brooke's Animal Welfare Indicators Repository will enable others to learn from our experience and utilise these resources to measure and improve equine welfare around the world.
Although these indicators have been developed for use with working equids, there is also scope to adapt them for application to alternative contexts and species.
Who is this site for?
We hope that this site will be useful for anyone with interest in working equine welfare, animal welfare assessment, or design and implementation of welfare improvement activities.
Equine welfare practitioners wishing to adopt evidence-based practice
Academics and animal scientists assessing welfare within a research context
Development professionals who encounter or utilise equids during field-work
Animal health practitioners and veterinarians treating equids
Policy-makers requiring means of quantifying the need for and impact of welfare-related regulation
Advocacy and campaigns officers whose requests will be strengthened by welfare data
Emergency responders dealing with equine populations
Students of animal welfare assessment, equine science or animal welfare science
"Animal welfare indicators can reveal to us many bad practices on observed animals. This tells us the right intervention to do and the right advice to provide to owners to prevent recurrent health and welfare issues."
Background to welfare assessment at Brooke
Brooke is an international animal welfare charity, founded in 1934, whose mission is to transform the lives of vulnerable working horses, donkeys and mules around the world.  Achieving this mission requires a detailed understanding of the welfare issues affecting these animals.
An important means of gaining this insight is through assessing the welfare of the animals directly, using relevant and standardised animal welfare indicators, to generate valuable data that can be used to inform many aspects of welfare improvement activities.  Now we'd like to help others to do the same.
Since introducing our first
Working Equine Welfare Assessment
protocol in 2003, Brooke has been continually gaining experience and refining how we assess animal welfare in the field.  We launched our
Standardised Equine-Based Welfare Assessment Tool (SEBWAT)
 in 2011, which continues to be widely utilised in our international country programmes, and have trained more than 150 welfare assessors around the world in animal welfare concepts, equine behaviour, handling and welfare assessment.